Blackpool's £220m Talbot Gateway project being led by Morgan Sindall's regeneration business Muse Developments is one of the biggest building schemes to be affected.
Chester Zoo's £225m Natural Vision project – dubbed the Eden of the North – was expecting £40m from the agency that it will no longer receive.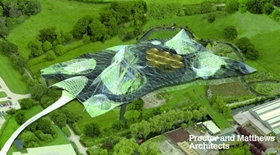 Manchester's international festival and theatre projects in Liverpool are also among the hordes of projects facing a funding shortfall because of the cuts.
Big projects affected: full list further below
Blackpool's £220m Talbot Gateway
£50m Burnley Bridge Business Park
£150m University campus Hulme
£225m Chester Zoo Natural Vision project
£30m Everyman Theatre, Liverpool
Liverpool Institute of Vaccine Research
Projects where contracts have already been signed, such as aspects of Media City in Salford and the Lancashire County Cricket Club revamp, are unaffected.
But it is understood the NWDA wants to reduce or break some other existing deals.
Contracts which could face review include £6.5m investment for a biomedical research centre in Manchester, £7m to help redevelop Ancoats in Manchester, £4.6m towards a revamp of Chetham's School of Music and almost £3m for a National Indoor BMX centre at Sportcity.
The NWDA said it had now essentially "closed for new business".
Steve Broomhead, NWDA chief executive, said all non-contracted projects had been cut, as well as the agency's own administration costs.
"But we now need to re-examine all existing projects and programmes to identify where further savings can be made," he added.
"We will use all available flexibility to try to meet these challenging reductions but the reality is that this is a substantial reduction to our in-year budget and there is bound to be an economic impact on the partners, businesses and communities with whom we work.
"In addition, the size of the cuts means that we have little flexibility in our future budgets and the agency will not be able to make any new investments or renew partner contracts before our dissolution in April 2012.
He added: "I recognise that this is a very difficult time for both our partners and our staff across the region and I sincerely hope that many of these projects and partners will be able to find alternative sources of funding."
Those hit by withdrawals in funding will be able to apply to the new £1bn Regional Growth Fund from April 2011, the NWDA said.
All nine RDAs have been told to make budget cuts for the current financial year, and will be wound-up in 2012.
As well as the dozens of projects and concepts, more than 30 organisations – including regeneration agencies – have had their funding withdrawn.
Full list of projects hits by funding cuts
Media Sector Development Plan – Audio Visual Skills 2001/12
Manchester Metropolitan University – Birley Fields Education & Health Campus
All Souls Church Restoration, Bolton
Preston Guild 2012
English Half Marathon
World Series Netball
Manchester International Festival
Midpoint 18 Employment Site Development, Middlewich, developed by Pochin
Parklands Plot 5B, Middlebrook, Bolton, Orbit Developments
Talbot Gateway, Blackpool, Muse Developments
Burnley Bridge Business Park, Eshton Group
Corridor Manchester Public Realm
The Dispensary, New Islington, Manchester, Urban Splash
The Manchester Square, Waterloo and St Chads Headlands, Blackpool
Kingston House, Liverpool – Planning Fees, Langtree
Leyland Trucks Training Programme
Chester Zoo Natural Vision
Crewe Rail Gateway – Main Project
Ancoats Estate Management Company
Crewe Green/Basford Link Road – Main Project
Preston Vision: Winckley Square Public Realm
Whitefield Economic Development Programme
CBC Aintree
Getrag Training Project, Halewood
MakeMedia Centre
Manchester Ship Canal Aeration (Salford Quays)
Trafford Park Masterplan
Parsonage Colliery Phase 1
Royal Eye Hospital, Manchester – Enabling Works
Next Generation Access Broadband Manchester
Citadel – Court Square,Carlise
Roman Maryport
Lancaster Science Park
Everyman and Playhouse Theatres, Liverpool
Liverpool Science Park Innovation Centre 3, Neptune Developments
National Football Museum, URBIS
Blackburn TC Knowledge Zone – Cathedral Quarter
Sportscity Major Destination Site
West Float Land Remediation – Wirral
Trafford Wharf land remediation
Preston Vision: Flag Market Public Realm
Riverside Park 2b – Wirral
The Liverpool Institute of Vaccine Research
Regional Aero Park – Samlesbury – Phase II
BAE Submarine Solutions Training Programme
Blackpool – Central Corridor Phase III
Horwich Loco Works (remediation)
Church Wharf, Bolton, Ask/Bluemantle
Manchester – Burnley – Accrington direct rail link
Carlisle Historic Core Public Realm
Process Innogateway 2
Town Wharf, Middlewich
Crewe Vision Partnership contribution to costs
Frodsham Gateway
Faithful Enterprise
Cibitas – Chester review
Lake District National Park Authority – Employment Sites Programme
Lake District Electric Vehicle demonstration
Environmental Technologies Business Park
Solid State Lighting Demonstration
St Annes public realm – Open Golf 2012
Gen-Probe UK Consolidation at Wythenshawe
Aviation Power Up
Climate Change Action Plan Northwest Climate Fund Phase 2
Jaguar Land Rover Training Project
Leyland Trucks Hybrid Demonstration
Liverpool Metropolitan Cathedral Arts Project
Manchester is my Planet Phase 3
Incubation National Nuclear Lab
NW Autonomous Systems Programme – Innovation
Centre of Excellence for low carbon vehicles technologies
Mersey Tidal Test Centre, Peel
Preston Vision: Innovation Trail
Royal Institute for British Architects Second National HQ
Rossendale Vocational Training Centre
Rawtenstall Town Centre Public Realm
Haslingden Public Realm
Skelmersdale College Campus Renewal
Co-op Office Development Skemersdale
Stobart Air
Thomas Storey Stockport
Stalybridge West
Trinity Mirror Transformation Project
Wirral HE Campus
University of Chester – County Hall refurbishment
Chester University Food Research & Development
Cumbria Higher Learning
Sands Centre, Carlisle
Centre for Genomics Research
NW Clinical Fellowships Industry Programme
Strategic Affordable Manufacturing in the UK Leading Environmental Technology
Smart Grid Centre of Excellence
Nuclear Fuel Applied Research Centre
Warrington Bank Quay Station Business Lounge & Subway
Nuclear Low Carbon Economic Area
Wigan On Side Centre, Mesnes Park
Turnpike Centre, Leigh
Fleetwood Fish Park
Centre for Exploitation of Energy Research
City Centre North – the Co-operative Quarter
NW Autonomous Systems Programme – Regional Sectors Project