Irish Rail has named the four consortia which have prequalified for the £2bn Dublin Area Regional Transit public private partnership project.
The scale and challenge of DART has attracted banking and engineering giants from Spain, Italy and Portugal.
The UK is fielding BBI consortium, composed of Balfour Beatty, Bam and Iridium Concesiones de Infraestructuras, a Spanish engineering group.
Consortia prequalified
BBI Consortium – Balfour Beatty Capital, BAM PPP Investments Ireland, Iridium Concesiones de Infraestructuras
City Connect Consortium – Macquarie Capital Group, Cintra Infraestructuras, Global Via Infraestructuras
NascRail Consortium – OHL Concesiones, Soares da Costa Concessoes SGPS, Allied Irish Banks, Bombardier Transportation, Pierse Contracting
Toto Consortium – Toto Costruzioni Generali, Societa Italiana per Condotte d'Acqua, Ansaldo, Condotte Immobiliare, Torrena Scavi, Rocksoil
The massive scheme is expected to employ 7,000 workers during construction of the 7.4km of twin-tube tunnel. This will be bored by two TBMs, 25m deep under Dublin city centre.
The contract is scheduled to be awarded to the successful PPP company by summer 2012 and construction completed and passenger services commenced through the tunnel by end of 2018.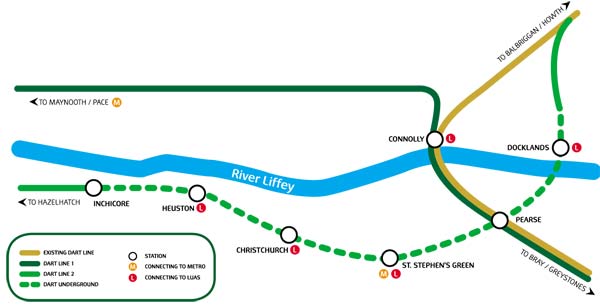 The tunnel will connect the Northern and Kildare rail lines, with underground stations at Spencer Dock, Pearse, St. Stephen's Green, Christchurch and Heuston as well as a new surface station at Inchicore.