The move helps to clear the way for £1.5bn redevelopment of the Elephant and Castle in South London and will allow builder Durkan to move to the next phase of its £34m house building contract.
Demolition teams started ripping down the 2,700 homes Aylesbury Estate to make way for new homes, which will be built as part of developer Lend Lease's plan to transform the delapidated area.
Three sites on the estate will then be developed, with about 4,000 new homes, 50% of which will be social housing.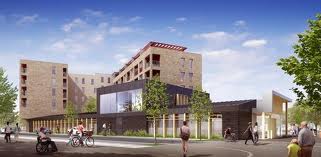 Housing association London & Quadrant appointed Durkan to build the first 260 homes at the site last year.
Tony Blair visited the estate hours after his 1997 election, describing its 7,500 residents as "forgotten people" and promising to tackle social exclusion.
The project has already gained global significance following the announcement, in May 2009, that the Elephant and Castle was designated as one of only 16 founding projects of the Climate Positive Development Program.
This Clinton Climate Initiative (CCI) programme, established by former US President Bill Clinton, supports the development of large-scale urban projects that demonstrate cities can grow in ways that are "climate positive."
A Southwark Council spokeswoman said: "There are mixed affections for the site. Many people who have lived on the Aylesbury estate for years are sad to see the homes they grew up in being demolished, while others are glad to see modern new homes spring up, ready for them to move in."
The estate was built between 1967 and 1977 and became renowned as an area of deprivation, with crime and anti-social behaviour blighting the estate. Television programmes like The Bill and Spooks would often choose it as a backdrop when filming gritty scenes.
Fiona Colley, of  Southwark Council, said: "The new homes appearing on this site will be better for those who move in, and what looks like a building site today will become a brand new landscape for this part of London."
The regeneration will include:
5,300 new and replacement homes
up to 800,000 square feet (75,000 m²) of retail space
five new open spaces
an integrated public transport hub