Tate director Sir Nicholas Serota said that approximately half of the £200m cost of Tate Modern's ambitious expansion plans has now been raised, but he refused to be drawn on a completion date for the new building
Mace is acting as construction manager for the 11-storey extension of Tate Modern.
Interested contractors will be required to provide performance and insolvency bonds should they secure work.
The packages for the main above ground structure that are about to go out to tender are M&E works and the cladding and glazing system.
Tate Modern appears to have elected for go for a pre-cast concrete cladding with a brick appearance to sit beside the existing brick built former power station.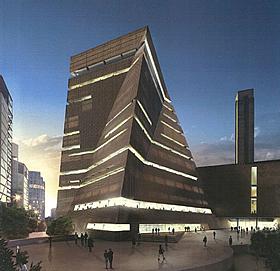 Building packages for tender

£6m  package to design and instal pre-cast cladding system
£5m package covering external glazed cladding and windows
£8m Electrical services
£1m fire alarms
£3.5m  General air conditioning and ventilation
BMS & controls package
Requests for documents by 4 October from Gordon McGregor Tel: 07789172479 email ttmojeuresponses@macegroup.com Starting 21.3.2011. Completion 7.3.2014
Mace intends to shortlist six firms reducing to  a competitive dialogue with three bidders.
The pre cast cladding will form a watertight seal to the structure in conjunction with the glazing package.
Tate has also secured two-thirds of the £45 million required for transformation of Tate Britain scheduled to start in the spring in time for completion in 2013. All this funding has come from private sources.
Sir Nicholas said: "We remain confident in spite of the recession that we will deliver both the new building at Tate Modern and a totally transformed and renovated building here at Tate Britain."