The ODA says there  are a further six development plots with scope to build between 2,100 and 2,500 homes.
Taken together with the homes under construction for athletes, the development offers a management and investment opportunity amounting to 4,000 homes.
Already social housing group Triathlon Homes has committed to buying 1,379 homes. The remaining 1,439 homes will be sold or rented to the private market.
The Village was originally planned as a private sector scheme but Australian developer Lend Lease was hit by the credit crunch and the decline in the property market in 2009.
In May 2009, it was decided that the deal on offer was not in the best interests of the tax payer and that further funds and savings from the overall Olympic budget would be invested in the Village to avoid the need for private investment at that time.
Under the timetable set out today, The ODA will shortlist of interested firms early next year and enter detailed discussions prior to formal offers and proposals being submitted.
A decision on whether to proceed with the selected firm will be taken next Summer.
Any proposal would have to be approved by Government and demonstrate value for money returns against the public investment made in the Village.
ODA chief executive David Higgins said: "The funding of the Olympic Village has provided the public sector with a first-class asset and we are now starting the first stage of the process to recoup the investment that has been made.
"This is a unique and significant investment opportunity and while securing best value will be key, we will be looking for the best owner for the Village not necessarily the highest bidder."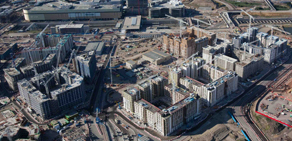 Work is progressing on the Olympic Village, with more than three quarters of the plots structurally complete.
The ODA Offer

Legacy Homes

1,439 legacy homes over 11 residential plots
New homes with open plan layouts ranging from studio apartments to 4 and 5 bedroom townhouses
Residential plots built around private courtyard areas with podium level car parking
New homes built to Code for Sustainable Homes Level 4
Minor works to install kitchens taking place on a phased basis after the Games, so that the homes will be available for occupation from varying dates in 2013/14

Future Development Plots

Six future development plots with existing outline Planning Consent
In total, the six plots have the potential for 2,000-2,500 open market homes to be developed, together with retail floor space and associated uses

New parks, open spaces


More than 10 hectares of new parks, open space, public squares and tree-lined streets, interspersed with play areas, cycling facilities, and recreation spaces
A world-class education campus, Chobham Academy, with 1,800 places for students aged 3-19
A state-of-the-art Polyclinic with a full range of primary healthcare services including multiple GP surgeries, outpatient activity, and a children's clinic