The second stage of the £140m Rowner regeneration project in Hampshire will first see run-down housing and retail buildings demolished to make way for 700 modern homes.
Project management firm Anser is handling the eight-year programme on behalf of the Rowner Renewal Partnership, which comprises Taylor Wimpey, housing association First Wessex, Gosport Borough and Hampshire County Council.
Hazel Warwick, spokeswoman for the Rowner Renewal Partnership and group director of development for First Wessex said: "We were delighted how favourably residents responded when they saw the Phase 2 plans.
The estate was built by the Ministry of Defence for Navy staff and their families in the 1950s.
The completion target for Phase 2 is expected between 2012 and 2013 and it is hoped that demolition in this area will start next year.
Juliette Bishop, Tesco corporate affairs manager, said: "We are delighted that planning permission has been obtained for this important stage of the regeneration scheme.
"A new Tesco store will create around 135 new jobs and working closely with organisations such as Job Centre Plus and Gosport Borough Council will allow these jobs to benefit local people."
Work began last march on Phase 1, which includes 219 new homes.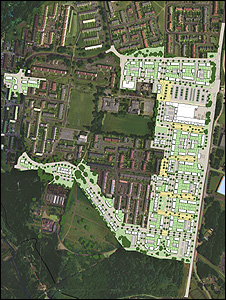 The Rowner master plan shows the proposed regeneration area layout