The university bought the site for £28m and plans to demolish five buildings to make way for new laboratories and four accommodation blocks for 600 students.
The plans were recently criticised by architectural watchdog CABE for only aiming for a code 3 BREEAM rating.
Work on the first phase of the project known as Woodlands will cover post-graduate accommodation and is scheduled to be finished by September 2012.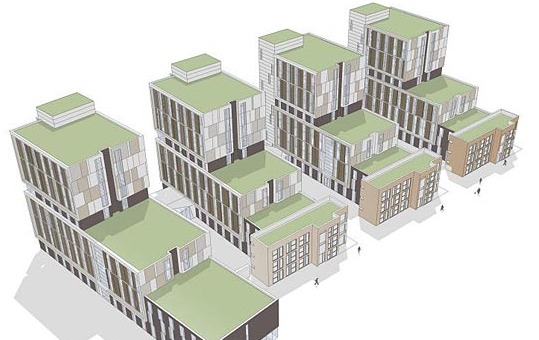 John Anderson, the director at Imperial College London responsible for the development, said: "We are delighted that Hammersmith & Fulham Council has approved our plans to develop accommodation on the Wood Lane site for our postgraduate students.
"We look forward to taking this first step towards establishing a campus that offers a wide range of uses, bringing benefits to the local community and London, as well as to Imperial College London."
The new accommodation building, designed by Aukett Fitzroy Robinson, was the subject of extensive pre-application consultation with local residents, and is intended to provide the catalyst for the overall vision of the site that could establish:
Significant research and teaching space to provide vital capacity to expand and consolidate activities, and complement the activities on the College's existing west London campuses
A new London square the size of Soho Square – opening up a site which has been closed off to the public for many decades
New local retail space, such as a convenience store and pharmacy
Service hotel, gym and restaurants
Healthcare services and early years education nursery
New commercial space, including an Incubator Unit for technology spin-outs.