The deal to build 6,800 sq ft of offices was signed after the investment arm of Aviva agreed to finance the pivotal project, which forms part of the ambitious Clyde Gateway regeneration.
Ian Manson, chief executive of Clyde Gateway, said: "This is an important milestone in the regeneration proposals for Clyde Gateway and the latest piece of good news for the Bridgeton area.
"The Eastgate development is one we identified as being hugely significant in the first phase of Clyde Gateway and we are very pleased that the support of the city council has enabled Aviva and Dawn to be our first private sector partners.
Bosses at the privately-owned Dawn Group have agreed to provide 70 local residents with either a job or a modern apprenticeship or a combination of training placements and work experience.
Eastgate will be designed to BREEAM 'excellent' standards and construction work is epected to begin this month, with a completion date of late February 2012.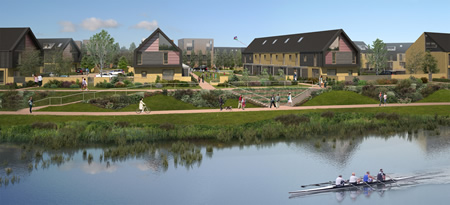 The area is undergoing a dramatic transformation, with many changes and developments linked to the forthcoming 2014 Commonwealth Games.
Contractors CCG, Mactaggart & Mickel, Cruden and W H Malcolm have just started main construction work building more than 700 homes for the £245m Athletes' Village, adjacent to the site being developed for the National Indoor Sports Arena and Velodrome.