The project to build a new national nerve centre for biomedical research next to St Pancras International station is shrouded in secrecy. Firms have been reluctant to talk about bids because of strict confidentiality clauses.
But the Enquirer understands that Laing O'Rourke has just won the main contract for the superlab after pitting its wits against rival teams from Mace/McAlpine, Bovis, Bam and Skanska.
Laing O'Rourke secured the £40m concrete basement package of the UK Centre for Medical Research and Innovation several weeks ago.
Since then it has been on tenterhooks to find out whether its main bid to run the entire four-year long job was also succesful.
An insider told the Enquirer: "Everybody involved appears to have taken a vow of silence but Laing has won the entire job.
"It's very strange that the client is keeping it under such tight wraps, particularly because it is publicly funded and advertised in the Offical Journal."
Plans to build the 80,000 sq m centre for biomedical research were unveiled by then prime minister Gordon Brown in a fanfare of publicity as one of the world's largest centres of biomedical research.
The UKCMRI is expected to attract the brightest and best scientific minds to the capital to work on cures for cancer, heart disease and degenerative conditions linked to ageing.


Research complex will be built behind British Library, next to the St Pancras International railway station
Main construction on the building designed by architects HOK with PLP Architecture is expected to start in a May and take about two years to complete.
A further two years will be spent fitting out the institute, installing equipment to run building services for advanced laboratories.
The building's vaulted roof is arranged into two shells and will be fitted with solar panels.
A third of the building will be below ground to reduce its visible mass.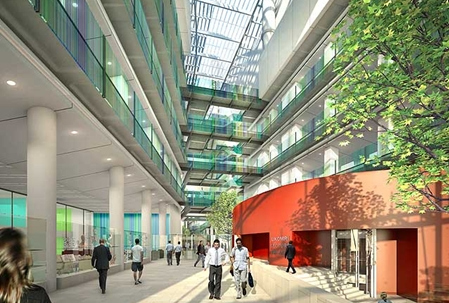 Around 1,500 scientists will work in the building trying to find cures for cancer