Kier Marriott is due to start construction of the main glass and steel building around October after the bus station interchange preliminary works have been completed.
The building will be light and airy, with extensive use of glass and steel frame.  It will be fully enclosed and have a comfortable waiting area with plenty of seating, toilets, a shop, a café and a baby changing area.
One of the most striking features will be a long aerial pedestrian walkway running above the bus station and road forecourt.
The relocation of the bus station is the key to unlocking major development plans for Mansfield town centre when the site of the current bus station and an old Tesco store becomes free.  This will, potentially, bring in investment of up to £35m.
Councillor Richard Jackson, Nottinghamshire County Council Cabinet Member for Transport and Highways, said: "This is a very important project for the future of Mansfield.  Not only will it provide significant improvements for bus passengers, but it is also vital for the redevelopment of Mansfield town centre.
Current site….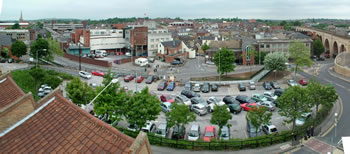 Once complete in late 2012….