Local developer Morbaine placed the order with the Cheltenham-based contractor, paving the way for foundation work to start next month.
Britannia bid beat rival bids from Bowmer & Kirkland, Vinci, Barr, Watkins Jones and Simons Group.
The glass fronted 120,000 sq ft store will be the biggest supermarket in Widnes and is set to transform the seven acre Ashley retail park.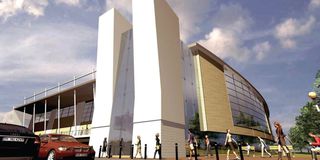 The raised store will be built on columns to allow for a partly covered car park of over 600 spaces, a design that significantly reduces the development's footprint.
John Parle, managing director of Morbaine, said: "All the groundworks and piling will start in five weeks.
"It will be an iconic design with a cafe on the mezzanine floor, overlooking Widnes Waterfront."