The London Thames Gateway Development Corporation has started the hunt for a contractor to carry out site preparation and groundworks worth up to £10m.
The London Sustainable Industries Park is located on a 25ha site brown-field land, formerly a coaling port, at Dagenham Dock.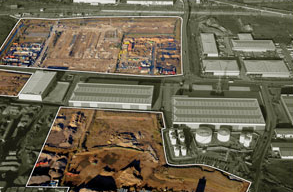 Aerial view of site of London Sustainable Industries Park site
It is hoped the park will attract up to £500m of investment, eventually to become home to the largest concentration of environmental industries and technologies in the UK.
This will include buildings designed for recycling and renewable energy generation to the manufacture of sustainable construction materials and research and development.
On top of  land remediation, groundworks and access roads, the contract includes surface drainage to attenuation ponds and a low pressure hot water network for the site.
Waste managment firm Cyclamax plans to build a 100,000 tonne capacity gasification plant on the site to produce enough power for up to 20,000 homes.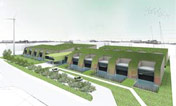 Planned waste processing plant
It will divert commercial waste that would otherwise have gone to landfill, including non-recyclable waste from offices, restaurants and retailers.
Solihull based development manager Goodman is handling the procurement process. Contact Simon.Harratt@goodman.com for further details or call 01215068100. PQQs need to be returned by 27 July.