Portsmouth City Council last week gave its seal of approval to the student accommodation block dubbed the blade tower, which will be built on the site of the former Victoria Baths in the city centre.
The project designed by Architecture PLB consists of a main 108m high building with rooms for 600 students, and a second, smaller 4,600 sq m building to be shared by the Institute of Criminal Justice Studies and the School of Education & Continuing Studies.
Test piling has been completed and Rock & Alluvium will start foundation work this week.
Watkins Jones' specialist accommodation arm is handling the project and has signed up Stephenson Construction for the concrete frame.
All other packages are up for grabs including a steel frame portal for the smaller academic building.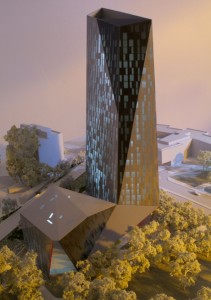 108m high building with smaller 4,600 sq m academic building to be shared by the Institute of Criminal Justice Studies and the School of Education & Continuing Studies