The Heart of East Greenwich housing scheme already has planning consent and will transform the former Greenwich District Hospital site into a modern complex of homes and community facilities.
The focal point of the development will be the Greenwich Centre, which will house a library, leisure facilities and NHS health centre.
Construction is scheduled to get underway before the end of the year and should run for up to three years.
Hadley Mace will now work with architect Make to deliver the family-orientated, eco-friendly housing scheme which will include private gardens and a large public square.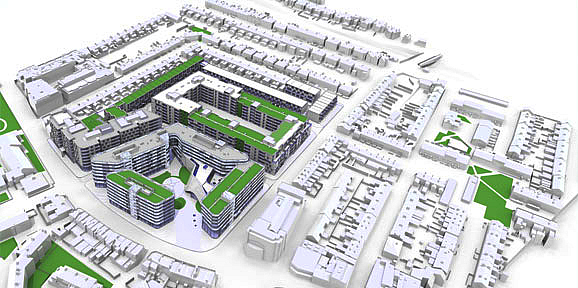 London Mayor Boris Johnson, said: "News that the Heart of East Greenwich project is now pressing on full steam ahead is fantastic to hear.
"It is a landmark regeneration scheme, as part of a determined effort we are making across London to bring forward public land for development.
"As well as bringing some vital new facilities such as a library and leisure centre to the community, it will deliver quality housing that will make a real difference to families in the area."
David Grover from Hadley Mace said: "We are delighted to be named as the preferred developer on this prestigious development.
"The partnership between Hadley and Mace came about as a response to the Home and Communities Agency's quest to find a new way of regenerating neighbourhoods with fresh, innovative thinking and creative investment.
"Acting as delivery partner for the client, and taking control of funding and risk aspects of the scheme, we are offering a full turn-key solution that can be replicated throughout the UK on all public land and any stalled public regeneration scheme."