Following the decision by the City of London's planning committee to rubberstamp the scheme, it will now go before mayor Boris Johnson for final approval within the next two weeks.
The £350m London Wall Place office scheme was formerly known as the St Alphage site, but has been redesigned by architects MAKE.
The largest of the two buildings, 121 London Wall, is designed as a 300,000 sq ft headquarter office building adjacent to Moorhouse its smaller sister at 123 London Wall, which will provide 195,000 sq ft of office space in a 16-storey tower.
Martin Jepson, managing director at Hammerson, said: "There has been overwhelming recognition from City of London Members of the scheme's quality and this is a result of our commitment to constantly evolving the design and challenging traditional preconceptions of both the site and occupier's needs."
Hammerson is seeking a prelet for 121 London Wall. Construction completion is due in 2014 for fit-out, ready for occupation in mid-2014.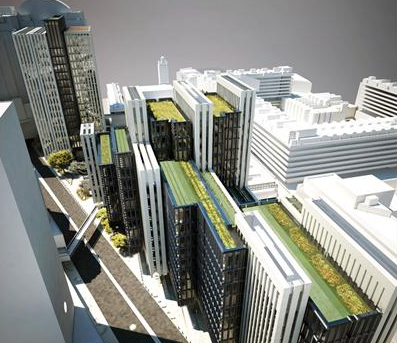 Aerial view of London Wall offices