The plans outline replacing the existing shopping centre with a 30% larger development of 131,500 sq ft to help rejuvenate the shopping offer in the area.
Tesco has already agreed to take 55,000 sq ft of the space which will utilise the existing provision at the site for 30,000 sq ft of floor space to be used for the sale of food.
The remaining space will be divided up into approximately 10 to 12 smaller retail and leisure units which will significantly improve the shopping provision for local people and reduce the requirement to travel by car to other centres.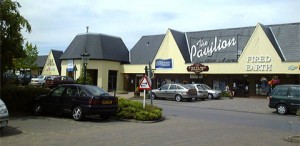 The existing centre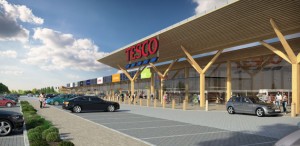 How the new Taplow retail park will look
The development will include an extensive scheme of landscaping as well as a new, improved access point via Bath Road.
The proposal will incorporate sustainable technologies to reduce impact on the environment including recyclable materials in construction, all buildings of timber framed construction, rainwater harvesting and photo voltaic cells installed to help generate electricity from a renewable source.
Nick Duffield, Land Securities Portfolio Director, said: "The Bishop Centre has suffered in recent years as its traditional anchor stores have closed and foot fall has fallen as a result.
"We have lost both Focus DIY and Habitat in recent times and the time is right to try and reposition the Bishop Centre to offer a more relevant retail offer that can help rejuvenate the centre and offer employment opportunities for the locality."