The 210,000 sq ft  office development next to Holborn Viaduct is known as Bath House and ranks as the biggest office scheme up for bid in London at the moment.
Both Skanska and Balfour Beatty have already carried out preliminary works at the 60 Holborn Viaduct site, after the existing buildings were demolished several months ago.
But Skanska is understood to have decided not to bid for the main contract.
Private developer Favermead put the project on hold in 2007, but dusted off the plans drawn up by architect Kohn Pedersen Fox a year ago.
Since then Axa Insurance has been brought on board to jointly develop the office and bids are now in for the big building job, which should be awarded in December.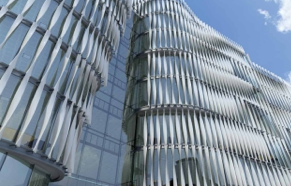 The eight-storey building has been designed to achieve a BREEAM rating of 'Excellent' and features an undulating façade in front of a glazed curtain wall.
A key component of the redevelopment of 60 Holborn Viaduct is the rebuilding, in traditional materials, of the Gate House at the north east corner of the Farringdon Road – Holborn Viaduct junction.
The new Gate House will complete the existing set of three structures that were originally erected as a grand gesture during Victorian times.