The Agency will work in partnership with Crest Nicholson to deliver the 248 new homes in North Colchester, the first part of wider proposals that include outline planning consent for up to 1,500 new homes.
The selection follows a competitive bid process through the HCA's Delivery Partner Panel, set up to save time and cost in selecting a developer.
Around a quarter of the new homes will be affordable and the housing development will tie in with the delivery of the Northern Approach Road and new primary school, both to be delivered by Essex County Council.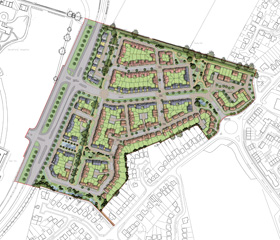 The HCA secured 'reserved matters planning consent' for the first phase of housing in August following extensive work with the borough and county councils.
The homes will consist of 30 one- and two-bedroom apartments, 72 two-bedroom houses, 96 three-bedroom houses and 50 four-bedroom houses.
They will be a contemporary take on the traditional 'Essex' house design.
James Moody, managing director for Crest Nicholson Eastern, said: "We are looking forward to working with the HCA to deliver high quality homes in such a great location as Colchester."