United House is due to start work  imminently on the £120m Thames riverside scheme of 257 luxury apartments.
The scheme will boast a residential tower rising to 16-storeys as the main focus of the bankside Paynes & Borthwick scheme which also includes 44 affordable homes to be managed by Hexagon Housing Association.
An existing warehouse will be refurbished and converted into a 38,000 sq ft of art gallery, alongside restaurant, commercial and retail space and a total of 150 underground parking spaces.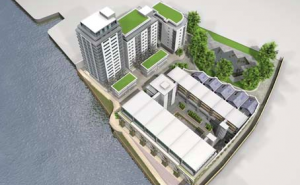 The master plan for the project has been agreed by the Boroughs of Lewisham and Greenwich to advance the regeneration of this area of London, which has been designated a Creative Enterprise Zone by the Government.
Jeffrey Adams, group chief executive of United House, said: "Paynes & Borthwick is an exciting mixed-use regeneration scheme, which will create a new riverside community in the heart of West Greenwich.
"Together with JER Partners we will rejuvenate the area, providing new homes and jobs, to create a vibrant new quarter for London."