Portsmouth City Council's planning committee unanimously voted through proposals to clean-up and regenerate derelict land around the former greyhound stadium.
Remediation specialist Cognition Land & Water will be carrying out much of the land improvement work, with another specialist HBR doing bioremediation.
The decision is the second boost for the Tipner regeneration scheme after the government earmarked £20m to build a new junction for the area off the M275 motorway, along with a park-and-ride scheme.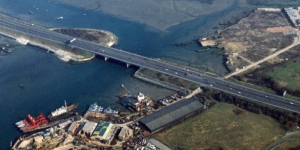 Road construction could start by April with the new junction ready a year later.
Three major landowners in the area – the Homes and Communities Agency, the Tipner Regeneration Company and the council, submitted regeneration plans that will see up to 600 homes built on the site.
Work on cleaning up the land is expected to start early next year.
The local regeneration company submitted an application for cleaning up a site which includes the greyhound stadium and building up to 518 homes.
Two planning applications to build 80 new homes on the former PD Fuels site and prepare three other plots for development were made by the council and the HCA.
Cllr Mike Hancock, the council's Cabinet Member for Planning, Regeneration and Economic Development, said: "Our vision for Tipner is really starting to become a reality, thanks to the funding for the new junction and this decision on these planning applications."
Masterplan for the area

• 1,600 new homes (of which 30% are proposed to be affordable housing)
• 25,000 sq m of employment for 1500 new jobs
• a high quality Park and Ride facility
• a hotel
• a residential tower
• waterside public open space
• a new motorway junction