The engineering giant is planning a big expansion of UK facilities to meet expected demand for aeroturbines and nuclear power station equipment.
At present two factory sheds are at the bidding stage at its Advanced Manufacturing Park in Rotherham.
Bids have also just gone in to build a new aero-engine disc facility in Washington, Sunderland.
It is one of four new facilities Rolls-Royce is to build under a £300m investment programme that will secure or create 800 jobs.
Miller, ISG and Kier are understood to have submitted bids for the Sunderland plant which is understood to have an estimated build cost of £35m.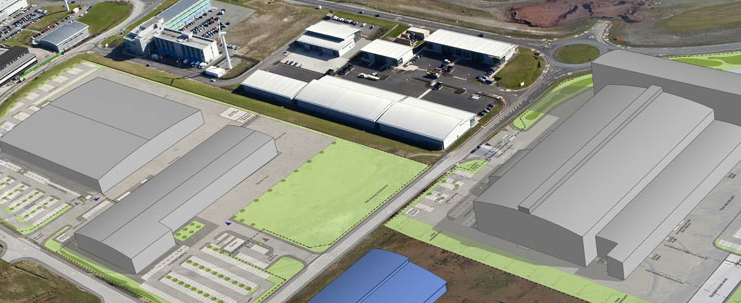 Three factories will ultimately be built in Rotherham
In Rotherham, Bam Construct, Clegg and Miller Construction are due to submit bids for a 210,000 sq ft plant that will be used to build pressure vessels for the next wave of nuclear power stations.
Bids are due in next week for the £35m factory unit which will rise up to 38m in height to accommodate fabrication of large vessels.
Rolls Royce will also receive bids the week after for the second major factory at the site. This 150,000 sq ft plant will be a more convetional 12m height and produce turbine blades for the aerospace industry and is expected to cost up to £30m to build.
Several firms have been connected with the job including Buckingham Group, Bam, Clegg, Shepherd, Miller and McLaren.
A third smaller unit is also planned, which is expected to come out to tender later this year.
One firm told the Enquirer: "This is a lot of much-needed new work from Rolls Royce. Building was due to start in the Spring but we have to still hear details about the final programme times."