Neptune Developments is submitting an application for a £45m scheme of four new buildings on the site, which has been a eyesore in the city since the previous developer went bust in 2007, halfway through the concrete package.
The first two residential blocks will contain 200 flats, the third a 170-bed hotel and fourth is earmarked for  leisure, offices or residential units.
The Baltic/Cornhill site is on Wapping, opposite the King's Waterfront and near to the Liverpool One retail area.
Plans by Windsor Developments to develop the site in 2006 were halted when the developer went into liquidation and the site has been mothballed ever since.
Steve Parry, Neptune Developments Managing Director, said: "This is a key site in the heart of Liverpool and its proximity to the Liverpool Echo Arena and Conference Centre, Liverpool One, and of course our Mann Island scheme, make it a very attractive proposition.
"We are working closely with the city council and with local residents to ensure that our proposals are absolutely right for the area and we look forward to turning what is currently an eyesore into the final piece of the jigsaw for this vibrant area of Liverpool."
Balfour Beatty has been brought on board as the contractor for the scheme which is being designed by Liverpool architect's Falconer Chester Hall.
The plans also include the completion of the underground car park to create 330 spaces for residents, employees and other visitors, and the creation of a pavement café and other planting and landscaping work.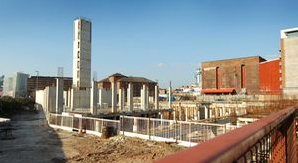 The original Baltic Triangle site collapsed in 2007 with debts of £46m, and became one of the biggest property failures in the city.
London-based Windsor began work on the site in 2006 as the first phase of an ambitious vision to transform the area into a 21st Century urban village.
But less than a year later, building work ceased when the company went bust.
Neptune is setting up a joint venture with Barclays, which is owed £25.5m as the main creditor to Windsor's scheme.
Laing O'Rourke was also left nursing heavy losses for concrete work.