Over the next 20 years, the new town of Northstowe will provide up to 10,000 new homes, schools, a town centre on the old barracks site and surrounding land of approximately 480ha.
The plans submitted cover the first phase of 1,500 new homes and related facilities alongside an updated masterplan for the full development.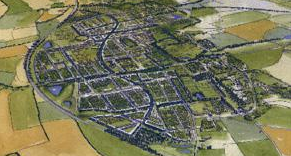 Developer Gallagher Estates and the Homes and Communities Agency are promoting the new town site which took a major step forward when chancellor George Osborne pledged £20m cash to upgrade the A14 between Huntingdon and Cambridge for increased traffic for the Northstowe.
Alan Joyner, executive director of Gallagher Estates, said: "Northstowe will be built to high sustainability standards and will make an important contribution to the provision of market and affordable housing and economic growth in South Cambridgeshire.
"We are looking forward to continuing the positive dialogue we have had with the local authorities and local communities and we will all be working towards the planning application being determined before the end of the year."
Steve Collins, Head of Area for the HCA, said: "Gallagher submitting the phase one application is fully supported by the HCA as it is part of the revised master plan for the whole site, the majority of which HCA owns.  It's therefore a major milestone for the project as a whole.