The Covent Garden Market Authority has selected their joint venture VSM Estates ahead of a pairing of Bouygues UK and the Carlyle Group for the massive building project due to run for five years.
This will see a new, 500,000 sq ft market built to house 200 businesses that make up the UK's largest fruit, vegetable and flower market.
It will be funded by the release and redevelopment of 20 acres of surplus land into a residential led mixed-use regeneration scheme that will see 2,800 homes built near the planned US Embassy.
Three of the nine planned residential blocks will be 30-47 storeys high.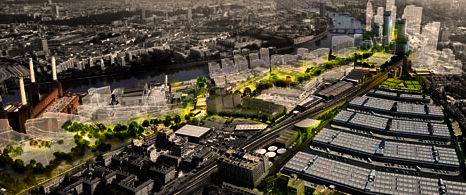 The contract is subject to full planning consent for VSM Estates' scheme with construction expected to commence by mid-2013.
Construction will initially focus on the building of the new market ahead of a multi-phased move of the traders into the new purpose-built facility between mid-2014 and 2018.
John Stanion, chairman of Vinci plc, said: "As part of a leading global construction and concessions company we are delighted to be working with the Covent Garden Market Authority to deliver this particularly complex project.
"Our focus on developing a solution that enables the market to continue to trade efficiently throughout the construction programme has been critical in our success.
"This important contract builds upon our strong existing partnership with St Modwen."
Bill Oliver, chief executive of St. Modwen, said: "We believe our success is down to our extensive experience in delivering highly complex regeneration schemes such as this, in partnership with a global leading construction and concessions business in Vinci."
New Covent Garden Market plan in detail
• All market activities moved onto the main market site, in a phased redevelopment which aims to minimise the disruption to tenants. Redeveloping rather than refurbishing the existing 1970's buildings creates a more efficient site layout

• The market plans will deliver five new buildings for wholesale and catering distributors, alongside a
dedicated new flower market building, relocated from its current location at the Northern Site.

• Plans also include a new building, called The Garden Heart for food and flowers in London, open to the public. This will be a hub of activity outside of the market, providing a base for a host of facilities such as exhibition space, education facilities, cafes and a food retailing including a public market.

Four development plots are freed up by these plans:

• The largest is the 4.22 hectare Northern Site, located close to Vauxhall Cross. The plans are centred around a new linear park where 1,600 new homes will be built in 9 residential buildings – six blocks to the north and south are arranged as 'fingers' and are between 11 and 17 storeys. Three taller buildings will form part of a cluster of high-rise buildings that will emerge at Vauxhall to the east and which range from 30 to 47 storeys, the tallest includes a hotel.

• Along Thessaly Road – the south western boundary of the market – the current brick wall will be demolished to release land for 180 new residential units built in 4 blocks around communal gardens and play spaces.

• At the 1.08 hectare College site, at the south eastern end of the market around 100 new homes are proposed arranged in three blocks.

• The current entrance to the market will be demolished to create a gateway to the new linear park from Battersea. Over 400 new homes are proposed in a stepped arrangement of buildings, which rise to 15 storeys towards Nine Elms Lane and are combined with local shops.