Guy's and St Thomas' NHS Foundation Trust aims to refurbish and reclad the exterior of the 34-storey tower located next to the Shard construction site.
The extensive overhaul is designed to stop concrete deterioration, replace failing windows, and improve the building's carbon footprint.
The towering hospital building is divided into two main sections, one housing the main wards and offices and the other services and stairwells.
Architect Penoyre & Prasad's design will see new aluminium cladding fitted to the services tower section, while concrete balconies of the main tower will be cleaned and new glazing fitted.
This will improve the tower's energy efficiency and give the 38-year-old concrete building a face lift so it sits more easily alongside the imposing Shard building now under construction at London Bridge.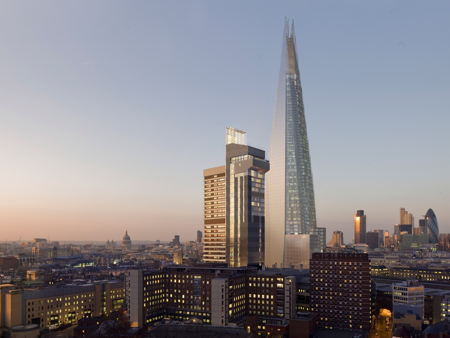 "Following a period of careful planning, we're extremely excited to have signed the contracts with Balfour Beatty," said Steve McGuire, director of the trust's facilities and estates department.
"We are confident that Balfour Beatty together with Arup, the project managers, will deliver the project to a high standard.
"We aim to transform the tower's external appearance, to deliver a sustainable landmark design that benefits the trust as a whole, and with an impact reaching beyond the hospital site into the London Bridge Quarter and beyond."