The rail operating centre will be built on the Engineers Triangle in the city and is the largest of 14 proposed centres in the country to deliver training for frontline maintenance and engineering staff.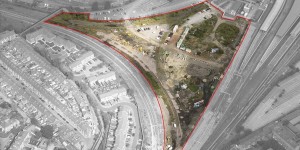 The York Engineers' Triangle site dates back to the mid 19th century. Archaeological studies and excavations are being undertaken to identify the extent and condition of buried railway heritage in the area.
Once finished building work is expected to get underway in September.
The centre will coordinate and control all rail operations on the London – North Eastern route, while the new training centre will consolidate services already provided at several different locations into a single, purpose-built facility.
The £30m project marks a further collaboration between BAM, Aedas and Network Rail following the key national centre in Milton Keynes.
John Phillips, construction director for BAM, said: "The York Engineers Triangle will provide a railway operations centre housed in modern high specification office facilities with the capacity to expand to 48 desks over time."
Robin Gisby, managing director of network operations for Network Rail, said: "York has a proud railway history and these new facilities will allow us to continue that whilst providing a modern, efficient service.