London-based development specialists Delancey and Landid are now working on an exclusive agreement to develop the 20-acre Northern Gateway site.
The Co-op said the announcement represents a milestone for the ambitious project which will transform 20 acres of the city's Northern Gateway into a high quality development, providing 4m sq ft of office, residential, retail and leisure space.
The site surrounds the new Co-op headquarters building which is due to be completed by Bam in September.
The deal is a blow for Manchester-based Bruntwood, which was the only other shortlisted developer and had been in talks with the Co-op since October.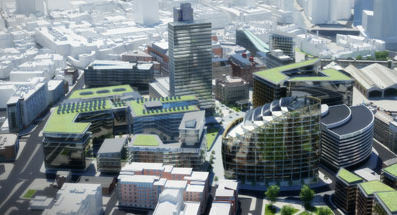 David Pringle, director of NOMA, said: "This represents a great opportunity to bring together businesses of equal pedigree and financial standing. Delancey and Landid have the track record, undoubted talent and complementary expertise that will enable us to drive the NOMA project forward in the way we have always intended.
"Delancey have already demonstrated a commitment to Manchester through previous developments, and have an excellent understanding of the national and North West property markets.
"We have a shared belief in what NOMA can deliver to partners and the city, and we are looking forward to delivering this vision together."
Paul Goswell, managing director at Delancey, added: "NOMA is one of the most exciting redevelopment opportunities in the UK today. It is part of an incredibly vibrant city centre and has the critical mass needed to create a new integrated residential and commercial district, in keeping with today's urban lifestyles.
"We are delighted to be in exclusive talks with The Co-operative and, with our partner Landid, are relishing the challenge of creating something truly special for Manchester."