The mixed-use Imperial West scheme will be built on the former BBC site on Wood Lane in White City, west London.
It brings together a range of uses including academic and research facilities, with commercial and residential space around a new London square.
The building work is expected to cost £80m-plus and could start early next year.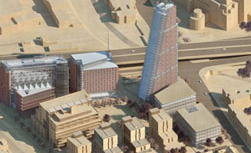 The most controversial element is a 34-storey landmark residential tower block that has been dubbed the "poor man's Shard" by protestors.
Imperial West has been designed by architects Aukett Fitzroy Robinson and PLP Architecture.
Health and biomedical research building
Building for new technology start-up businesses developed by Imperial Innovations
Postgraduate facilities
New homes – 1, 2, and 3 bedroom private, NHS and College key worker homes
New London square the size of Soho Square
Four-star hotel
Local convenience services – including retail, pharmacy, healthcare services, early years' education nursery
John Anderson, Imperial West Project Director, said: "Imperial West will build on and further develop the College's existing strengths in engineering, the physical sciences and biomedicine and will become a second major campus for Imperial College London.
The re-development will improve the urban environment, visual appearance and access to a site which had been closed to the public for many decades."
"This decision is good news for White City, for Hammersmith & Fulham and for London, and will provide Imperial College with new postgraduate teaching and research facilities which will ensure it remains one of the world's leading academic institutions."
Contractor ISG is due to finish the first phase this month of four, 10-storey accommodation blocks for 600 students on the site.