There will also be public realm improvement and a new pedestrian bridge over the Shropshire Union Canal.
Broadway Malyan designed the project which will meet a BREEAM Outstanding rating and see a store building at Wharton Court demolished and rebuilt.
Around 75% of the energy needed for the supermarket will be provided by an on site wood-burning biomass plant.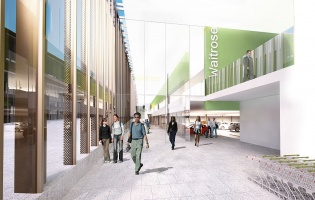 A spokesman for the project said: "There will be an investment of £40m on the site, we think that will act as a spur for future regeneration projects," said Mr Hoare.
"We want people to know that Chester is open for business, and a development like this could open up some serious opportunities for the local area.