Rowntree is considering whether to break the £90m deal into three smaller projects of around 100-plus homes or seek a single developer.
The initial phase of the scheme at Osbaldwick have seen more than 64 homes built. Three remaining phases to be built out are the Temple Avenue, Fifth Avenue and Meadlands Quarters.
Construction work is expected to get underway next Spring.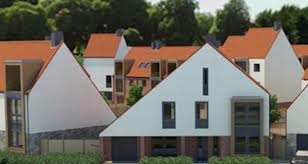 "The house types proposed are similar to phases one and two with respect to their design, although two new unit types are included, which are bungalows sharing the Meadlands boundary and apartments overlooking the Derwenthorpe energy centre," said Nigel Ingram, JRHT's director of development and asset management.
PQQs must be submitted by 16 November. Contact: nigel.ingram@jrht.org.uk