The project is Gatwick's largest capital investment since the change of ownership nearly three years ago.
It is also a historic milestone for Gatwick as the pier is one of the oldest in the South Terminal and was first opened by Her Majesty Queen Elizabeth II in 1958.
The project will involve the demolition of the existing Pier 1 in the New Year to make way for the new building.
Due to be opened in summer 2015, the new building will house a new baggage system and new gate-rooms for passengers, and will be linked to five new aircraft stands by air-bridges. The project will also encompass taxi-way improvements on the airfield.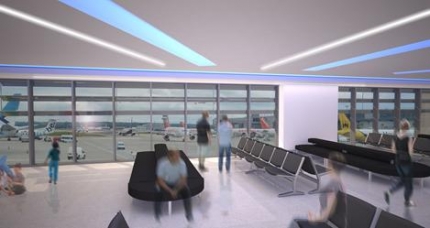 The new two-storey building will enable them to find their way more easily and will offer facilities to cater for their needs, including new seating and child-friendly zones.
Ben Green, Head of Piers and Infrastructure at Gatwick Airport, said: "Over the last two years we have been transforming Gatwick, both in the service we provide and structurally to become London's airport of choice.
"This project is our boldest step yet and we are delighted that Vinci Construction is on board. Withextensive experience of working in airfield environments, they will help drive efficiency and quality as we work hard to safely deliver a dynamic new building."