The mixed-use commercial scheme on Canal Street, known as Southreef, stalled in 2010.
Now a Middle East investor has bought the project and hopes to restart building work in January.
Colin Wright of new owner Nottingham One said: "Everyone knows that its had a difficult history and one of the first things we will be doing is changing the name.
"The Southreef signs will be coming down in the next few days and it will be rebranded as Nottingham One."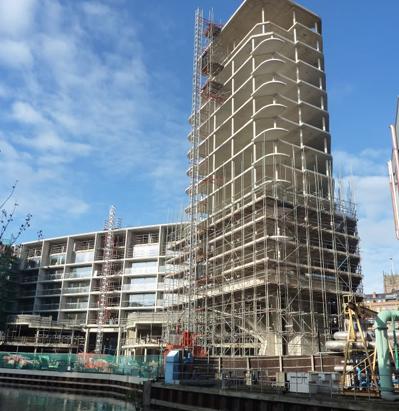 Nottingham architects CPMG have been commissioned to redesign the interior of the existing concrete frame tower where a hotel was due to be built so it can become a series of luxury apartments.
Arup has been signed up to oversee the programme arrangements and several shortlisted contrators are due to find out which firm has won the job next month.
Nottingham City Council deputy leader Graham Chapman added: "We are delighted a development programme has been put in place and are keen to see this development brought to completion.
"The scheme will undoubtedly become a major focal point along one of the main arterial routes in and out of the city.
"Teams within the city council have been working closely with the developer since acquisition to ensure the works run smoothly. We are delighted to welcome Nottingham One to the city and will continue to support them throughout the construction programme and look forward to helping with the launch of the completed development."