The 16m by 12m pitch will be built with a retractable roof and be available for use by anyone wishing to play at the top of the ten-storey building including non-residents.
An earlier application had been approved in May but came back before planners with minor design changes including the pitch.
Building work is expected to start in January 2013 with the hotel open for the 2014-15 season.
Man Utd objected to the plan claiming the scheme on the site of a former lard factory undermined the "holistic vision" of its "strategic plan" for the area.
But planning officers said the revised scheme had taken account of the proposed proximity to MUFC and the prominence of this international venue".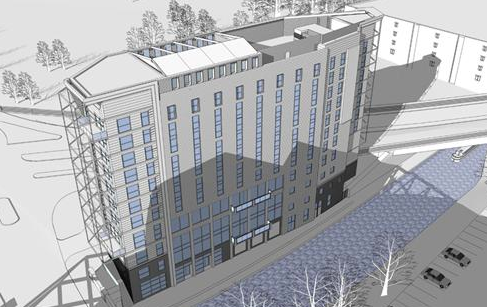 Anthony Kilbride, projects director from developer Red Property Service, said: "The roof was to be used on match days and we decided to utilise it with something a bit more interesting.
"I can not think of a more iconic location to play five-a-side football."