The first phase of the £70m Pelham Street scheme will involve building on a big car park site. Then an existing college tower will be demolished to make way for 500 student apartments under the four-year construction plan.
A major annuity fund has agreed to finance the 120,000 sq ft scheme, supported by proceeds from the  sale of surplus sites for housing.
College bosses say a planning application will be submitted to the local council with the aim of starting work next year.
Expansion plans were first drawn up in 2008 and received planning permission. But funding dried up when the Learning & Skills Council was shut down.
Lynn Thackway, the principal of City College Brighton and Hove, said:  "Our buildings are not fit for purpose.
"Our aim is to be an outstanding and responsive college at the heart of learning in Brighton and Hove with a commitment to continuous quality improvement.
"Our proposals for the redevelopment of our Pelham Street campus will help us meet this vision as well as contributing to the economic and social wellbeing of the city."
Project team
Architects: HNW (Chichester)
Structural engineers: Hemsley Orrell (Hove)
Project management: Northgates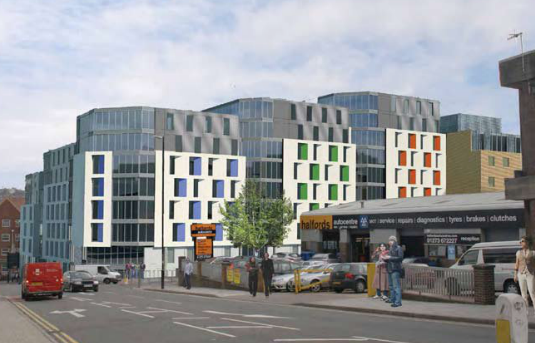 The 500 student flats will be managed by Brighton University as most of the 10,000 students at City College are from the local area.