This week plans moved closer to being realised with the completion of a land deal brokered by the West Northamptonshire Development Corporation.
Professor Nick Petford, Vice Chancellor of The University of Northampton said: "It is a hugely exciting project with an investment of more than £330m.
"If it progresses as we hope, we could be moving in to start ground work in 2015, with the campus opening sometime between 2018 and 2020."
Under the deal with the three land owners – Avon Cosmetics, Taylor Wimpey UK and Persimmon Homes – the university has four years to submit plans and find funds for the project.
If it fails the house builders have a year to start construction of the alternative mixed-use development.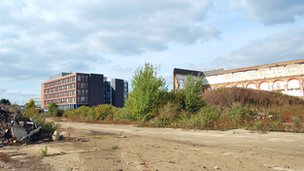 Avon Mills site has been derelict for 10 years
Peter Mawson, WNDC's Chief Executive said: "This is a truly momentous agreement for Northampton. Avon Nunn Mills has been largely derelict for over a decade, but we now have certainty that it will be redeveloped.
"Clearly, the University Campus would have huge economic benefits for the town and beyond. We look forward to working in partnership to deliver this flagship scheme."
For allowing the university to build on the land, Taylor Wimpey and Persimmon would be given plots of land at the existing Park Campus in Kingsthorpe to build houses on.
A spokesperson for Taylor Wimpey and Persimmon said: "We will be doing everything we can to see the dream of the new campus becoming a reality.
The Avon Nunn Mills site located in the enterprise zone has been derelict more than 10 years
"We are committed to the economic growth of Northampton and look forward to working with the university."