The £1.6m sq ft mixed-use scheme for the 3-acre site in the Nine Elms area includes 410 flats in the towers, student rooms, a large hotel and four screen cinema with surrounding shopping and cafes.
Construction work is expected to cost more than £500m and will begin in 2015.
CLS said it would now progress discussions on phasing, design, pre-letting and funding options.
Chief executive officer of CLS, Richard Tice, said: "We are delighted to have secured this major planning approval in the main Central London regeneration area, which is undergoing rapid transformation and attracting the attention of investors worldwide.
"The project is expected to create over 5,000 construction jobs, 2,000 permanent jobs, and deliver more than £500m of inward investment into the Vauxhall area."
Included within the proposal is a giant walkway, which would allow pedestrians to cross the Vauxhall gyratory. The public realm area will be as large as the City of London's Paternoster Square.
Scheme breakdown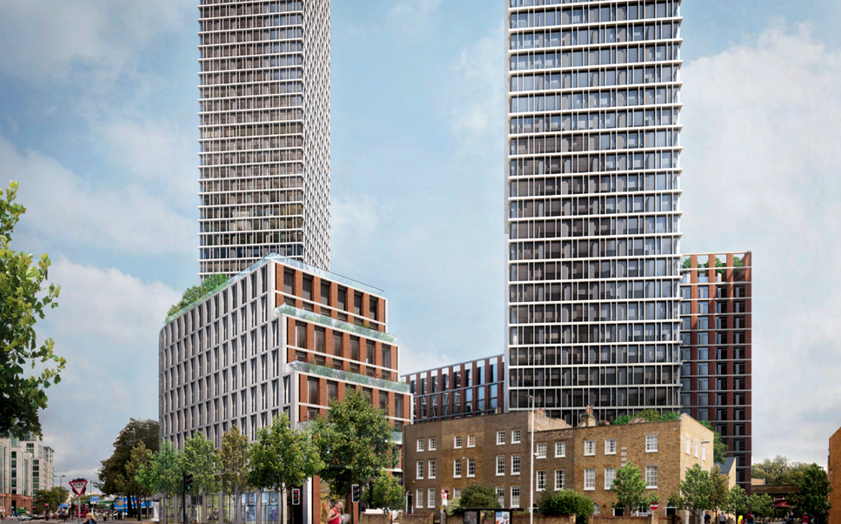 520 new homes, consisting of 410 private homes in two 50 storey towers and a further 110 affordable homes
22,732 sq m of offices
3,119 sq m of retail space
278 bedroom hotel and a 123 suite hotel, a 50 bedroom new hostel for the homeless and 359 student rooms
3,777 sq m multi-screen cinema and associated community facilities
substantial new public square and public realm improvements
Helen Fisher, Programme Director for Nine Elms on the South Bank, said: "Vauxhall Square is the latest in a series of major planning consents across Nine Elms on the South Bank and comes just weeks after the Chancellor announced a £1bn loan guarantee for the Tube extension to Battersea.
"This is by far the biggest development programme in London and will one of the greatest drivers of new jobs and homes in the UK for many years to come."