The plans will see the demolition of the empty 1960s Fleet Building, a former telephone exchange that fronts Farringdon Street and Shoe Lane.
The area is currently being revitalised with several major office schemes in the pipeline ahead of the Crossrail's Farringdon station opening as a major London transport interchange.
Plans lodged with the Corporation of London are for a nine storey office building across the large site, 50m shorter than the existing Fleet Building tower.
Goldham Sach's development arm estimated the huge building would take around four years to build, including demolition, and employ around 500 construction workers annually.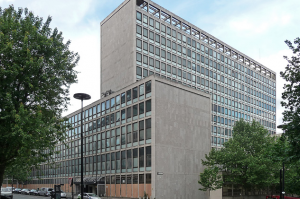 Planning consultant DP9 is handling planning with a verdict on the application expected by April.