The scheme involves demolition of several properties and construction of sections of new road on a mile-long stretch between Staplegrove Road to the west of Taunton and Priory Bridge Road to the east.
Carillion is expected to be confirmed by Somerset council as the winning bidder shortly.
Under the contract it will also build two new highway bridges, one over a road and the second over the river Tone and a canal. It will build a pedestrian bridge over the London to Penzance main railway.
The scheme has attracted controversy and was the subject of a planning inquiry last year.
But this week the Government inspector approved the scheme as in the public interest and said any concerns "do not outweigh" the benefits of the road.
As well as easing congestion, the road will help boost Taunton's economy by 6,000 jobs and add hundreds of millions to its economic performance.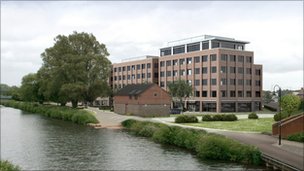 The road will give access to development sites in Firepool where 400 apartments, 500,000sq m of office space, shops and cafés are being planned.