It will start work next month removing existing supporting steelwork to preparing the way to start fitting large supporting beams in the summer.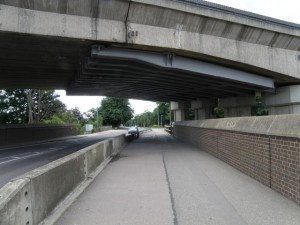 Existing supporting steels will be removed
To minimise disruption to road users, a scheme to reconstruct parts of the northbound A1(M) near Alconbury, where it meets the A14, has also been planned to coincide with the work. This scheme will take place during May and June.
Highways Agency project manager, Paul Sinfield, said: "Both the A14 and A1(M) are vital link roads for the east of England and we are committed to keeping both roads safe and reliable for road users.
"We have carefully scheduled these two projects to coincide to ensure minimal disruption to road users. We are working closely with Cambridgeshire County Council and local bus operators to minimise the impact on local roads in and around Huntingdon."
Tight working restrictions will apply where the viaduct crosses the East Coast Main Line.