This is its first foray outside of Cambridge where the newcomer to UK housing development trialled its first two projects.
The new homes will be built as part of Cheltenham Borough Council's £100m redevelopment of North Place car park, on the northern edge of the city centre.
The scheme has been drawn up by developer Augur Buchler and will also see a new supermarket, multi storey car park, public square and bus terminal.
Skanska Construction is also tipped to build the other facilities on the mixed-use scheme where work is expected to start in the summer.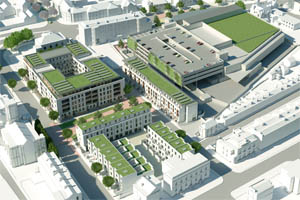 Homes by Skanska's Trinity Square element will offer 143 homes, comprising a mix of four-bedroom townhouses, as well as a range of one, two and three-bedroom apartments all with underground parking.
Magnus Andersson, President of Homes by Skanska, said: "We are pleased to achieve planning on this exciting city-centre development in Cheltenham. This part of the country is an area we have identified as one that could offer great long-term opportunities."
In keeping with the house builder's Swedish heritage, each home will feature high ceilings throughout, as well as large windows while reaching level 4 of the Code for Sustainable Homes.
This surpasses the minimum industry requirement for Code level 3 on new homes.