New buildings will be erected as precast concrete frame with bathroom pods and bedrooms of 10 sq m in five blocks ranging from 9 storeys to 5 storeys.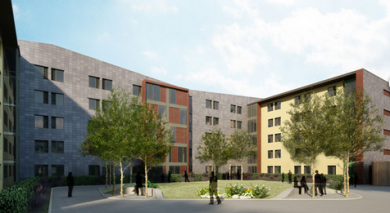 The halls will also be home to a new refectory capable of seating up to 350 people and open to the whole University. A light brick, copper and glass façade will enclose the proposed refectory space.
Planning consent was granted last month for the project which is due to be completed in summer 2014.