Four people were trapped in the rubble and 20 left homeless after the first and second floor flats collapsed above a former curry house.
The council believe the collapse in Broad Lane, Brook Hill, was caused by digging machinery hitting the pillar.
A council spokesman told the BBC: "The building partially collapsed on Saturday when a mini-excavator being used by the shop fitters hit one of the internal load-bearing support columns.
"That meant that around 20 people, mainly students, living in the upstairs floors had to be evacuated.
The building above the former Butler's Balti House was demolished completely on Sunday following the partial collapse.
An HSE spokeswoman said their investigation into the incident was likely to continue for "many months".
Fire service incident commander Stuart Nicholson said: "We had crews on scene very quickly and they were faced with a huge hole in the middle of the three storey terraced building.
"The first and second floors had collapsed onto the ground floor."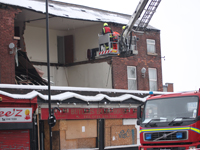 Emergency services rescued trapped students