EM beat four rivals to the five-year maintenance and upkeep contract covering 450 miles of major roads around Birmingham, Coventry and Stoke-on-Trent.
The other firms in the race were Carillion, Balfour Beatty/Mott McDonald JV, Atkins/Skanska JV and Amey.
EM will start work in July and run the region until July 2019 with extensions possible until 2022.
The deal is worth around £600m over the term, with annual expenditure expected to peak at £160m a year.
EM is now one of the Agency's key suppliers. It was awarded the Area 13 Managing Agent Contractor contract in 2010, while also re-winning Area 1 in the same year.
This year EM secured the Area 3 ASC having been the incumbent provider on the MAC contract for the last five years.
Dave Wright, EM Managing Director, said: "I am delighted that EM has been awarded the Area 9 Asset Support Contract – the second ASC for the company.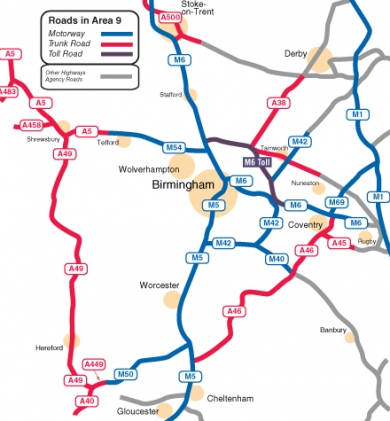 Area 9 covers major roads in much of Herefordshire, Worcestershire, Warwickshire, Staffordshire and Shropshire, as well as parts of Gloucestershire, Derbyshire and Leicestershire.It also includes the seven metropolitan boroughs of Wolverhampton, Walsall, Sandwell, Dudley, Solihull, Coventry and the City of Birmingham.The roads covered by the contract are sections of the M50, M5, M6, M42, M40, A5, A38, A46, A49, A38(M), M54 and M69.
Asset Support Contracts are driving efficiencies across the strategic road network, and are on course to achieve 25% cost savings by 2015 compared to 2010.
In return, contractors get more freedom to decide how they carry out their work, and can also take on larger road projects in house.
Tim Harbot, Divisional Director for the Agency's Midlands region, said: "By specifying the outcomes required for a safe and well maintained road network, and giving suppliers greater freedom to innovate to achieve those outcomes, ASCs incentivise our supply chain to deliver results for road users, and will achieve significant cost savings too."