The project is now expected to cost £212m – less than the £250m originally estimated, according to a Ministry of Justice announcement this morning.
Lend Lease secured the construction contract with a £151m beating rivals Kier, Carillion and Interserve.
It has committed to spend £50m with small and medium enterprises, £30m with local businesses and 50% of the entire workforce to be recruited from the local area, including around 100 apprenticeships.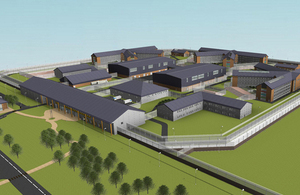 Work on the Wrexham super-prison is now expected to start  in August, creating up to 1,000 jobs, and the prison is due to open in late 2017.
Planning has already been approved for the project, which will be built at an old Firestone tyre factory on the outskirts of the city.
Prisons Minister Jeremy Wright said: "We have an overall budget we've set for the project of £250m. We think in fact it will come in below that, which is the first piece of good news."
"This contract will ensure that millions of pounds are spent with SMEs, with significant levels of work for local businesses and young people – a key part of this Government's long-term plan to build a stronger economy.
The new 2,100 place prison will consist of three four storey house blocks.
It forms  part of the ongoing modernisation plans of the prison estate, which will reduce prison running costs by £500m during the current spending review period.