The grade II listed Braime Pressings factory will reopen as a specialist new engineering and manufacturing college in September 2016.
It is understood to be BAM's 19 UTC project making it the country's most successful builder of the new generation of technical colleges. Around £11m will be ploughed into creating a cutting-edge college environment with areas designated for heavy engineering, production lines and a mini factory, as well as classrooms and lecture-style theatres for 600 pupils aged 14-18.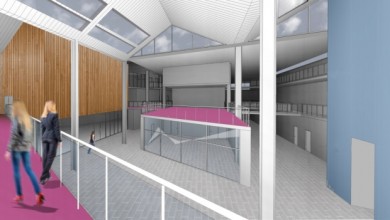 UTC Leeds will form part of the growing educational hub in the city's South Bank area where Leeds City College and Leeds College of Building are already based, and construction will start soon on the new Ruth Gorse Academy, one of the largest free schools in the country.
Mark Goldstone, a member of the UTC Leeds steering group, said: "The fact that the college will be located next to a functioning manufacturing plant is an excellent example of how closely linked the college is to industry."
John Scahill, BAM bid manager, added: "We have already had our first major meeting, bringing together all internal stakeholders on the build to make sure everything is ready to go as soon as we break ground."
The application for planning permission for UTC Leeds has also now been submitted to Leeds City Council, with permission sought for the change of use and alterations to part of the factory on Hunslet Road.
The application was prepared by a consultant team including Leeds planning consultancy Turley, Mott Macdonald and Race Cottam Architects.