One of the key finding was that operators wanted to be able to make hot drinks easily on freezing cold days.
So all JCB 3CX and 4CX Eco backhoe loader models now come with an optional hot water dispenser, capable of producing tea, coffee or soup, which locks securely into an area at the side of the cab.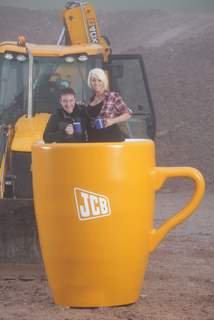 The new backhoe loader range is also the most efficient to have gone into production. It has been designed with the environment, and productivity, in mind and ultimately the machines work harder, yet require less fuel and driver effort.
Diggers from the range are now starting to go into the field – particularly timely as forecasters are predicting we are in for the coldest winter Britain has seen in the last 100 years.
JCB's Tim Burnhope, group managing director for product development and commercial operations, said: "Driver comfort is paramount and we are always looking at new, innovative ways to improve things.
"In preparation for a cold winter, our team of engineers looked for innovation inside the cab, the place where operators spend the majority of their time.
"We all know that a happy operator is a more productive operator and so we felt everyone wins with our new innovation."
In addition to the hot water dispenser, the new backhoe range also features a whole host of environmental and performance-enhancing benefits.
The new JCB EcoDig hydraulic system, which utilises three hydraulic pumps, can help cut fuel costs by up to 16%, saving customers up to £3,536 over three years.
It also boasts enhanced performance to further boost productivity. The models also come with JCB EcoRoad options of Smooth Ride System and TorqueLock which can reduce fuel consumption by up to 25% whilst increasing speed by up to 10%.
Power brakes provide proportional braking, resulting in reduced effort, and the redesigned pedal box, with improved ergonomics, helps operators maintain roading speeds, contributing to a further one per cent saving in fuel consumption.