The LR 13000 now ranks as the most powerful crawler crane in the world of conventional design and has been built with power station construction in mind.
Construction of the latest generation of nuclear power stations will depend heavily on preassembled modules which will drive industrial unit weights upwards.
Even in the refineries sector there is an increasing demand for industrial erecting columns weighing 1,500 tonnes up yo 100m high.
Because of the enormous size of the new 3,000 tonner the crawler crane has to be built for units that can be transported around the country.
As  a result engineers have ensured that no single component exceeds a transport weight of 70 tonnes.
The concrete ballast slabs weigh 25 tonnes and will fit into a 20-foot container, and can be lifted and loaded with a spreader and Twistlock locking system.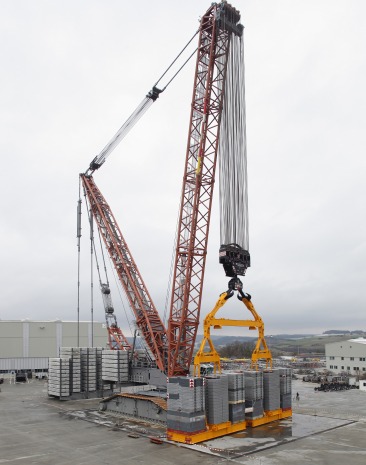 The crawler crane was assembled with a 60m main boom, a 54m derrick boom and 400 tonnes of superstructure ballast, and suspended ballast of 1500 tonnes.
The LR 13000 will be equipped with a new type of heavy-lift boom, which Liebherr has dubbed the P-boom – "Power boom".
With this system, the new crane should then be able to deal with a load of 3,750 tonnes, meaning that the nominal load of 3,000 tonnes will be tested and approved. The load test is planned for early in 2011.