Skanska has been using the system on its powered access equipment used during the £135m second phase of the Barts Hospital redevlopment in central London.
SkySentry is designed to prevent the unauthorised use of any Mobile Elevating Work Platform (MEWP) by requiring users to input a unique four digit PIN before machines can be activated.
Skanska is using SkySentry on all of the 140 MEWPs on site.
Skanska has led the way in MEWP safety and was the first contractor to ban cherry pickers lacking anti-crush bars following a spate of accidents across the industry.
Mick Ledden, Nationwide's parent company Lavendon Group's Market Development Director, said: "The unauthorised use of powered access is a key issue which demands a robust solution.
"As a result, Lavendon Group has been proud to invest in the research, development and creation of SkySentry, a system which can be used alongside adequate training, familiarisation and knowledge to directly improve safety on any site.
Ian Dodds, Project Director at Skanska UK said: "The introduction of the SkySentry has been an outstanding example of how new technology can be quickly, conveniently and cost-effectively used to maintain high safety standards through innovation."
Nationwide Platforms will be conducting a full product launch of SkySentry later in 2013.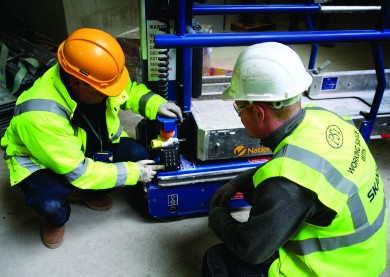 Skysentry prevents platforms starting without a PIN number